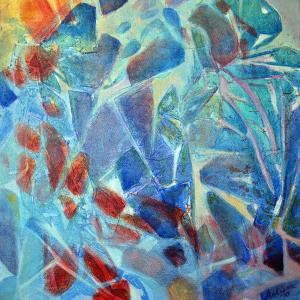 Local artists to present original work at Whole Foods Market "First Friday Art Walk"

Summer nights in Southern California are warm and inviting, perfect for a walk in town featuring local art. Artists from all over Orange County will be presenting a variety of original artworks for sale and viewing in the upcoming First Friday Art Walk on June 4 planned at the Whole Foods Market in Tustin, CA. Paintings, textiles, drawings, sculptures, and mixed media works will all be displayed.

Of particular interest are Arlissa Vaughn's paintings, depicting Abstract and Surreal imagery. Arlissa's highly colorful and dynamic artworks are made using a special technique of very thin acrylic paint applied in multiple layers to achieve an intricate level of hue and tone variance. For the First Friday Art Walk event, Arlissa has elected to present smaller artworks sized between 8"x8" up to 20"x16" both on paper and canvas. All artworks are ready for purchase, and there will be prints...