June 9th, 2010
I participated in the first Wholefoods Market Art Walk in Tustin last Friday. It was a positive experience, though not profitable (at least not that round). All the artists were super cooperative and kind to each other, and it was an easy setup since there was no tent needed and tables were provided. However, the layout of the art walk was a bit too narrow for comfort. The artists were cramped and the visitors were certainly cramped! It was not handicap accessible to say the least. However, this was their first time trying it and I commend Kim, the manager, for giving this a shot. It was also free to participate, so why the heck not? :) If they do it again I plan to be there.

At least during the art walk I did get some creative production time. I brought with me the orchids painting to work on. I got it up to a recognizable shape and form, but in no way are the shadows and highlights finished. This is a commissioned artwork which has been on the back burner for a while. I hope to have it and another commissioned piece finished before going to North Carolina in July.
May 31st, 2010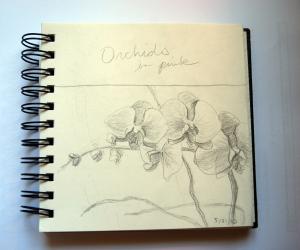 I've been journaling my new work for many months now on my website at: http://arlissavaughn.com/journal.html - but I will start posting those journal entries here too.

For now, I'll share my work for today. Starting a commissioned painting of orchids. Began with a sketch, then drew it onto the canvas, and now the background texture color coat is drying. I may do two background texture coats, but should hopefully begin the "real" painting tomorrow evening! :) I'm also working on another commissioned work which is a tree silhouette against a sunset. Seems very cliche, but you gotta do what you gotta do for a commission! The guy's son took a photo of this in Australia and the painting is to commemorate his trip. This photograph and only a few others were worth turning into a painting, so here it goes.